Party Information
Information About Our Parties That We Offer
We offer a private party room with three large tables, a nice counter top area, an arrangement of games, and nicely decorated room for your party choice.

These party times are avaiable:
11:00-12:30,
1:30-3:00,
4:00-5:30,
6:00-7:30.

Please call 985-851-2475 to book your next party event with us. It is suggested to call two weeks in advance to book your party.
Or email us for questions about parties!
Birthday Party Packages
We offer 3 Attractions:
Miniature Golf (1 round each - 18 holes)
Batting Cages (4 rounds each - 15 pitches/token)

Package Prices:
1 Attraction Package: $95.00 + tax. for up to 8 and each additional guest are $5.00 + tax
2 Attraction Package: $115.00 + tax. for up to 8 and each additional guest are $6.00 + tax

Each Package has a minium of 8 guests charge and use of the private party room.

Each Party Package Includes:
Your choice of attraction(s)
Invitations are provided on request and with deposit of $20.00 + tax
Use of private party room for 90 minutes (Arcade games in party room)
Choice of drinks: Coke, Sprite,(12oz.can) for each child
All paper products: napkins, plates, spoons
1 Free attraction pass for birthday child
1 Buy one /get one free golf pass for each party guest

We also have special discounts for extras:
Extra batting tokens 10 for $10.00 (with a batting cage party)
Extra time in party room $30.00 per hr. If available & must be made in advance.


Party Facts:
GENERAL CLEAN UP OF PARTY ROOM IS REQUIRED. WE WILL CLEAN TABLES; MOP THE FLOORS.There is a minimum charge of 8 children on all party packages. You will receive the full quantity of the attractions if there are fewer than 8;No extra passes will be given for under the minimum of 8.Please keep drinks and cake in the party room.PLEASE DO NOT LET YOUR GUESTS CLIMB OVER THE OUTSIDE RAILINGS AND PLEASE KEEP THEM OUT OF THE FLOWER BEDS AND THE FENCED OFF AREAS.TRY A WEEK DAY PARTY WITH LESS CROWDS.A $20 plus tax NON-REFUNDABLE DEPOSIT IS REQUIRED. 2 WEEK ADVANCED NOTICE IS SUGGESTED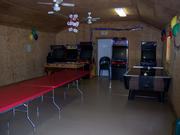 Team Parties
Coaches & Little League Parents have your team party with us:
You receive:
Private Party Room
Each child gets 12 oz. soda
and Choice of Attractions
4 Batting Cage Tokens
or
1 Round of Golf


All for only $7.00 per child plus tax
Minimum charge of 10 kids($70.00 plus tax)
Available anytime on weekdays only (Sundays after 6pm)
Not Available on Friday nights, Saturday or Sunday Afternoons
Reservations Required


Hourly Rates:
Additional time in the party room was $30/hr. or if you would like to rent the room without booking a party please call for rates.